Barry Martyn
Painting by Peter Butler
Barry Martyn has been a jazz drummer, bandleader, producer and historian for over 65 years. Born on February 23, 1941, in London, England, New Orleans Jazz was part of his life from an early age:
The first time I really heard New Orleans music was on the radio when I was maybe 12 years old, sitting with my mother listening to Alistair Cooke's Letter from America. My father was also a singer and had his own band. They would come over to practice and when they left, the instruments stayed in our house. Sometimes I would take one of the drums and play out back in a field. (Offbeat Magazine, 2019)
Barry began playing drums in 1955 and was leading his first band, Kid Martyn's Ragtime Band, the following year. His first recordings were made in 1959 with his band.
We played at Studio 51 in London, where all these cats would sit in and play, including Rolling Stones drummer Charlie Watts. [Charlie] was originally a jazz drummer and liked New Orleans music too. Years later, he arranged that stunt to greet the New York press, playing music from the back of a truck on the streets of Manhattan just like New Orleans jazz bands did to promote upcoming gigs.
Primarily interested in New Orleans revival jazz as played by the veterans, his first visit to New Orleans on January 4, 1961 was when he looked up Bill Russell. He began studying drums under Cie Frazier and founded Mono Records, quickly becoming part of the New Orleans traditional jazz community.
I listened to old records and became friendly with the colored players in town and ended up performing with Kid Sheik and Noon Johnson at the Black Masonic Hall downtown. If the cops had ever come, we would have caught hell. I came here to learn about music from black musicians, not from white players; after all, it was black music.
Throughout the 1960s Martyn toured Europe with New Orleans jazz veterans including George Lewis, Albert Nicholas, Louis Nelson, Captain John Handy, Percy Humphrey, Kid Sheik and many others. In 1972 he moved to Los Angeles and founded the Legends of Jazz, an ensemble which made several worldwide tours and numerous recordings.

He returned to New Orleans in 1984, where worked with George Buck (GHB) reissuing the music of Bill Russell's American Music back catalogue.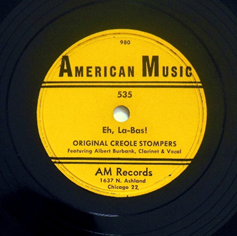 Barry has authored and co-authored numerous well-regarded books, including Song of the Wanderer and Bill Russell's New Orleans Music.
His expertise makes him the "go to" for writing album liner notes, identifying people in old photos, and educating people about the music and music makers. He is one of a rare and dwindling few who has devoted his life to preserving and sharing the music.
A standard-bearer for New Orleans's jazz drumming tradition, Martyn remains one of the city's busiest musicians and most avid promoters of New Orleans music.
His passion and love for the music and the players shines through as he talks for hours about the old masters.
Barry's son, who lives in Britain, now works with him to produce documentary films.
These days, I am working on a documentary film about a tap dancing show called A Thousand Years of Jazz, and I still play around town, for old families Uptown on special occasions, and with Andrew Hall's Society Brass Band, but most musicians I grew up with here, they're all dead! I'm a good drummer, not an excellent one, but will probably die on the bandstand with no regrets!
Barry is currently working with his son Emil about a film about Bunk Johnson to be premiered in New Iberia, Louisiana soon.
Barry also continues to issuing a rare recordings on his MONO Records label featuring masters from his collection including music by Creole George Guesnon that he and Bill Russell recorded together, and a CD of rarities by such artists as Wooden Joe Nicolas, Raymond Burke, Alvin Alcorn, Alphonse Picou, and the George Lewis Band. He also plans to release recordings of his old band in England with such artists as Alton Purnell, Louis Nelson, Kid Sheik, John Handy, and Don Ewell. Watch for new recordings being released here soon.
In 2007, the book Walking with Legends: Barry Martyn's New Orleans Jazz Odyssey (Mick Burns, Editor) documented Martyn's life story, providing "unique intimate glimpses of a vanished generation of New Orleans musicians, including Louis Armstrong, Kid Sheik Cola, Harold Dejan, Joe Watkins, Albert Nicholas, Kid Thomas, Andrew Blakeney, and many others."
In Walking with Legends, he honors the legacies of the African American musicians who taught and inspired him and affirms the importance of the human relationships that make the music possible.
Barry tells the story of his journey in a way that I think is similar to the way he approaches the music – keep it simple, keep it honest and above all keep it entertaining. But beneath Barry's sometimes larger-than-life persona is a lifetime commitment to playing, recording and documenting the traditional music of New Orleans that is huge. All of us who are either musicians and/or lovers of N.O. music owe Barry a big debt of gratitude – to use a well-worn but accurate expression – Barry doesn't just talk the talk, he walks the walk. (Bruce Raeburn)
M.O.N.O. RECORDS
Back cover of the first M.O.N.O LP issued in 1961:
The first thing offered is the wonderful book 'The Fabulous George Lewis Band, The Inside Story' which I co-authored with Nick Gagliano, George's friend and manager.
There is also 'Seems Like Old Times', a CD I made with two old friends, Orange Kellin & Freddie John, and three new friends, Marla Dixon, John Dixon, and a great young (unamplified) bass player, Tyler Thomson. I highly recommend it if you like the old style of New Orleans Jazz.

Since I wrapped up my work "American Music" for George Buck, many have asked "What about your own tapes, don't you have rare titles?" Thus, I have decided to re-open "M.O.N.O" Records. I am currently in the process of issuing several extremely rare CDs from masters I have had in my collection for years. There will be a CD of music by Creole George Guesnon, that Bill Russell and I have recorded, a CD of rarities by such artists as Wooden Joe Nicolas, Raymond Burke, Alvin Alcorn, Alphonse Picou, and the George Lewis Band. None of this material has ever seen the light of day. Also, I have pristine recordings of my old band in England with such artists as Alton Purnell, Louis Nelson, Kid Sheik, John Handy, and Don Ewell.
Diana Thornton, Webmaster
Diana is the grandniece of noted Dixieland Jazz historian and musician Bill Russell, and she and Barry Martyn have known each other for decades. She grew up around her eccentric uncle and visited him often in New Orleans. In the 1940s, Diana's mother remembers when Bill Russell lived with them when she was a child, operating his American Music record label in their attic. Barry Martyn feels comfortable working with Diana and regards her almost as one of the family.
Diana's own connection to the musical history of New Orleans spans over 40 years. As a child, she frequently visited her uncle Bill Russell in New Orleans and then moved there in 1989 in the last years of his life and assist him with some of his final book editing. She never planned on staying in New Orleans, expecting to move on to work as an archaeologist. But New Orleans and the music captured her heart and ignited her passion.
She spent several years performing and recording, and then in 1997 she started Crescent Music Services with Parker Dinkins to design and manufacture CDs for New Orleans musicians. Parker was another Bill Russell connection. He was an audio mastering engineer who had digitized and restored some of Bill Russell's vintage glass masters for release. In some ways following in her uncle's American Music footsteps, she has designed and produced hundreds of CDs for many New Orleans greats including Ellis Marsalis, Louisiana Philharmonic Orchestra, Charmaine Neville, Kermit Ruffins, Rebirth Brass Band, the National Park Service Jazz Park, and George Buck's Jazzology Records (who now owns and distributes Bill Russell's American Music record label masters). In 2005 she was one of New Orleans Magazine's "30 People to Watch."
Diana also specializes in designing and editing high-end books. One of her longtime clients is Bruce Spizer, internationally acclaimed author and Beatles historian (www.beatle.net) for whom she has completed over a dozen award-winning collector's books about the Beatles. Through the years she has become an expert in coordinating and producing image-rich, complex publications such as a 500-page Beach Boys Albums Price Guide with over 2,000 images. She is an expert in digital photo editing and image restoration in Photoshop and Lightroom and has practiced photography since she was 10 (back in the film days), going on to minor in photography in college and graduate school.
Diana resurrects the spirit of her uncle Bill Russell and unites with Barry Martyn's passion to preserve New Orleans Jazz.